Season 1, Episode 5
Wellness, Intention, and Alignment with Bridget Shannon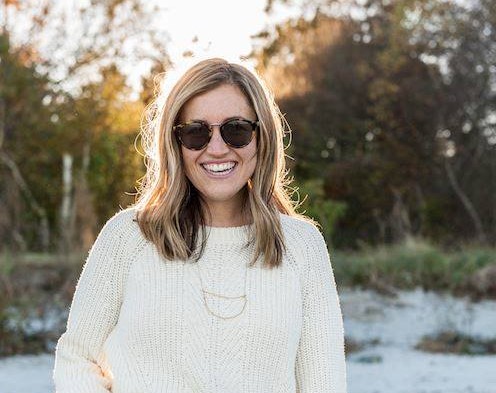 My guest for this episode is Bridget Shannon, a fellow millennial entrepreneur with three businesses all focusing on wellness and helping women. She shares with us how she's creating wellness in life and business with living with intention and alignment. 
Bridget begins by sharing her personal story, diving deeper into what inspired her to start each of her businesses and what made her realize the New York dream wasn't for her. In this podcast Bridget and I discuss the concept of work-life balance and the idea of finding harmony within oneself. 
After Bridget shares with us her personal version of success, she shares her goals for the future including building Wellness Lately and expanding her Seacoast Wellness Series. Bridget also gives insight into building a business while maintaining a healthy romantic relationship and encourages young women to build their businesses around their life goals, too.
Episode Highlights
Hosts & Guests
Jackie Kossoff, Host
Bridget Shannon, Wellness & Marketing Expert
The Millennial Success Society
Connect with other millennial women entrepreneurs by joining our community on Facebook! 
Fellow wellness expert, three business – first one marketing, founded Wellness Lately – women wellness company

Creating wellness in life and business with living with intention and alignment 
Romantic relationship, how to get partner in on journey
(2:50) Intro, share what you do/who you are
Run marketing in wellness
Co founder of Wellness Lately, break out of diet schedule, blog and podcast, live events, learn selfcare
Event series, Seacoast Wellness Series – bring people together in wellness space, those building brands in the wellness space
(5:25) What business did you start first and how did you get into it
3yrs ago, first business, journalism in college, moved to NYC, worked in wellness industry in content. Worked in newsroom for bit but not for me. Crushed soul to work in the advertising field. Started living on autopilot, wanted to do something different.
Friend Dana wanted to start a blog together Dec 2014. Jan 2016 – started freelance. Allowed time and space not spent at 9-5, going to a job to pay for things that weren't working for me. Business came as a result of wanting my life to look different, how I can design my life.
 (11:50) Work-life balance – how does that pertain to wellness journey
Sometimes I work more, but having a clear vision of knowing what you want and why, have struggled with burnout. Have a bigger picture in mind, some days are stressful. Unfulfillment was more painful than being stressed. All about alignment, impact on health when we don't have a career we love. Personal preference of values.
(15:35) Balanced isn't the best term according to this article (17:15) finding harmony with oneself, going towards the idea of harmony
Personally enjoy going to yoga at noon but work late, work on weekends but can go out, value flexibility v. rigid schedule of normal job.
 (17:50) Is 9-5 normal?
More of an option even with companies, employees value this
Jackie: history of this is not that old, when we didn't have light we only had the specific hours of the day.
 (19:50) personal definition of success?
Being in alignment with my values and feeling of purpose, working towards vision/goals, not a destination but a journey, are we making an impact, don't want to be superficial, part of collective good. Collective mission, am I doing my part, am I happy. Being whole and fulfilled.
(22:50) few things you see in your future?
Focused on building Wellness Lately, create larger brand around vision, feel wellness industry is full of crap and want to reach people who could use our help. Building podcast for WL. Hosting more live events, conferences, retreats (first longer this summer). Women told diet is solution but really problem, can relate.
Wellness series, want to go past surface level, want to make a difference to make more inclusion and diversity.
Less focus on agency, managing my health and goals. Can't fill all time with work
Dana is mom, I have no kids so I have freedom, but eventually want family life
(29:20) Jackie's own experience with weight loss
 (31:40) when we drop the struggle of trying so hard and step out of cycle, that's when we have the freedom to see what works for us on an individual level.
Wellness is how do we not feel like crap everyday. Some people make us feel like we have to do X, Y, Z to accomplish, but we need to figure out what works for us. That's what we help with in program. So many things we hold off before we lose the weight, that fuels a vicious cycle. About tuning into body/intuition – exercise is not the answer to a lot of these answers. Proven diets don't work, often leads to extra weight gain after.
(37:30) Speak to own experience and contrast of your partners experience to working with/without kids
Determined by what we want. Some friends that want to be moms, but some people do this who don't want it and lose self. Some people don't allow self to figure out what you want. 30 is a trigger number. Stigma around not being married and having kids. For me I don't want this right now, seems hard, but good for others. Have clarity around the things that you want, doesn't have to be conventional. Men don't have to deal with this internal conflict. It's a deliberate choice, intentional choice.
 (42:10) Jackie, Seems women will realize this after kids, women want to spend time and craft life.
I felt I was going to have family then kids, but then I thought why not start business now and create life for kids. There are options, as long as they're building life intentionally, they have choice. Some people family is the biggest motivator, others it's biggest stress.
Bridget: Sometimes we need to go through phases of focusing on business, need to be okay with seasons and mindful on how it affects overall life. My boyfriend very supportive and understands. Can tell when working and has an effect, ended previous relationship. Make time for family and friends. What's the point of creating this life if we're not living it.
(47:15) Advice for women in relationships just starting out and care for relationship
Not the most appealing answer, but need to be in relationships that support your vision and understand why. Red flag if they add stress. Need to be communicative on what you need and why. Are we asking them about them and their work, making two way street. Making it fun for them, my boyfriend is photographer so easy to collaborate, ask for creative input and advice.
(50:50) how do you go about getting support
Try to communicate, but not an easy choice. Get help to talk with friends or therapist. Need to have someone on your side.
(53:10) General advice to women wanting to start business who are waiting for something
Need to get clarity around what you want, if business need to get clear on this, think about how life would play out. Have to just start, usually underlying ideas of why your holding back, comes down to worthy thing from young age. What are the small steps to take, don't need to quit job tomorrow, what can you do to start. Really invest in yourself, like mastermind/coach/program. Who are the people we're surrounding ourselves with, need to show mind of people doing things we want to do.
Links Mentioned:
Bridget Shannon Content Marketing